Is there a more sinister reason for Edinburgh marathon results to remain unpublished, other than "data protection"?
This past weekend has just seen the 12th edition of the Edinburgh Marathon Festival (although there has been an annual marathon in the city since 1982), and for the past three years, organisers GSI Events, have taken the unusual decision not to publish the results beyond the first three male and female runners in each race.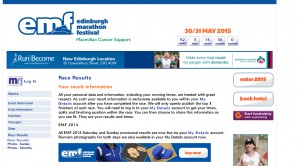 This decision has been met with a mix of scorn, criticism and anger across social media outlets and running forums across the country, from runners who view the results list as an intrinsic part of the race package.  Many runners, particularly those seeking to race for a particular time, rather than just to complete, are interested in the results list.  They like to compare themselves to friends and clubmates, to other people in their age category, to people that they might have raced against before.  Other fans of the sport may not have run the race, but still like to look out for the names of friends and colleagues or other athletes in whose performances they have an interest.