Is your training specific?
At the recent Xempo Performance Day [link: http://www.xempo.co.uk/xempo-performance-day-lea-valley-athletics-centre/] the winners of the Hype-A-Runner competition heard from our panel of experts about a whole range of ways that they can take their running to the next level. Over the next couple of weeks we will post a few tips from the day. The first is about making your training specific.
Out coach for the day, Nick Anderson, from RunningWithUs [link: http://www.runningwithus.com and  @nickandersonrun on twitter] told the gathered runners that for marathon training, some of the long runs that we do should feature periods of 'race pace' running.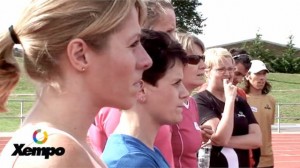 Nick also suggested that another way to build endurance is by incorporating 'Kenyan Hills' into your training programme.
"Hill running develops strength in your muscles and tendons without putting them under the type of stress they are exposed to during faster running. Run up a 5-10% gradient for 45-60 seconds at a steady-threshold effort. Turn immediately at the top and run down the hill at the same effort, then turn at the bottom and repeat without any recovery until the rep time ends. Like a tempo or threshold run, a hill session is time to concentrate, as you should be working at about 80–85% of MHR and be able to utter just a word or two if asked a question"