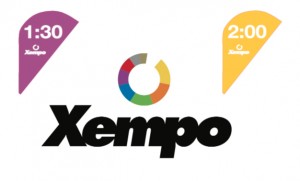 In advance of our Xempo pacers taking to the streets of London for the Ealing half marathon and Royal Parks Foundation half marathon in the next couple of weeks, we thought we'd share with you some top tips we have gathered from our years of racing.  We hope they are of use as you chase those all important PB's.
Ensure you know your target pace before you set off [link to RW calculator] – and write this down on your wrist or download a pace band [link to RW pace bands]. Experienced runners can sometimes race 'by feel', but for less experienced runners, having a target pace means giving yourself the best chance of hitting your goal time.
Be realistic about the pace you want to run – if your personal best time for a 10km race is 50 minutes, then a 1 hour 30 minute half marathon is probably too fast for you at this stage. Be sensible and slowly work your way up to faster times.
Running an even pace is a great strategy. It is unlikely however to mean running at an even effort level. If you stick to the same pace throughout the race, it will undoubtedly feel tougher at the end than is did at the start.
Allow your pace to pick up a little if there is a downhill or the wind is behind you, but not too much.
By running with a group, you will benefit physically – the group will help to shield you from any headwind, which can add extra effort to your running.
Running in a group can also have a psychological benefit, allowing you to simply clear your mind and cruise along at the group's pace, without having to worry or think too much.
If the pace you have picked is too slow, be prepared to adjust. If you feel as though you could go faster, pick a target ahead of you – another runner or group of runners – and wind up the pace to bridge the gap across to them. However, you should not really do this until you have passed the half way mark in your race at the very least, as you should feel strong in the early stages of the race, but running too fast too early could cause problems later on.
If you think that you have gone off too fast and you are running with a group, allow yourself to drift to the back of the group and stay there, benefitting from the physical and psychological benefits of that position. Relax for a while and see if you can cover a mile or two at the same pace. If not, don't panic. Slow down, but not dramatically, so that you are running at a more comfortable pace, without losing too much time.
If you are in a pacing group led by an official pacer, be especially aware of other people around you. A big group can create chaos on a race course if the members of that group are not all aware of each other and the other runners with them.
When you run with a group led by a pacer, it is not necessary to be shoulder-to-shoulder with the pacer – just make sure you keep the pacer in sight in front of you. The group will arrive at the finish line within seconds of one another and if everyone tries to run next to the pacer, the finish could be messy.