Where there's mud, there's medals… and probably PBs!
It is that time again: dark by 5pm, cold, often raining. The leaves are falling from the trees and the Christmas 'season' is in full swing on the High Street. It is also the season for cross-country and we think that those of you looking for your next Xempo top, might want to consider getting stuck into this type of racing in preparation for the spring.
Why cross-country helps road runners
Cross-country is a great way for those of us looking to better our times over every distance from 5km to the marathon for a number of reasons. Here are a few:
1)   Running on uneven surfaces, like those found on a good, muddy cross country course, builds leg strength and improves proprioception which will pay dividends when it comes to flat out road running in the spring
2)   Cross-country races are rarely flat and racing on hills builds great leg strength and lung power. Ideal for taking on your PB.
3)   Cross-country races are often cold, wet and challenging which is great for building mental resistance. When it gets tough towards the end of your target spring races, you can recall the hard cross-country season and use that mental strength to push through the pain.
4)   Cross-country gives you racing experience. In a race where time is not everything, but position is important, finding the strength to go after the runner in front and chase them down, is a great ability and means that when you are closing in on your PB, you can race the person in front to gain those few precious seconds.
A great history
Cross-country has a glorious history of developing great runners. The likes of Paul Radcliffe, Paul Tergat, Kenenisa Bekele, and more recently Mo Farah, all cut their teeth on the 'Cross. They built their physical and mental strength, taking on hill, muddy courses and, as we know, went on to great things.
Cross-country races grew out of the tradition of hash running, where groups of runners tried to chase and catch a couple of 'hares' – other runners given a head start who left a trail of pieces of paper for the chasers to follow. Soon this became formalised as the runners wanted to follow a defined course (rather than whatever route the 'hares' wanted to take) and cross country was born.
The first cross-country races were brutal affairs with runners crossing streams, hurling stone walls and trying to get over hedges: closer to what we think of as fell running than modern cross-country. But now courses, whilst rarely flat, are much more run-able and a great chance to enjoy some team camaraderie as well as a good workout.
Do you 'Cross?
So tell us, do you get involved in cross-country races? Who do you race for? And what are your favourite conditions? We are always keen to hear from runners who are using the cross-country to train for personal-best attempts in the spring. In fact we have a competition starting soon on our Facebook page (http://www.facebook.com/xempo.uk) where you can Xclaim your target for next year for a chance to win a top of the range GPS watch, a Xempo top and your own personal pacer in a race. Check back to see when the competition opens.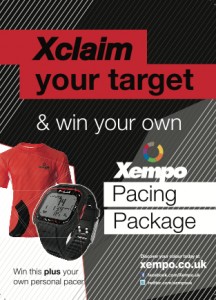 In the mean time, good luck if you are racing at the weekend. Hope it stays dry…
…or indeed wet!